Blast back into retro gaming with classic free Bubble Shooter games from Ilyon. There is more than one type of Bubble Shooter game and we have it all. Which game are you craving to help brighten up your daily commute to work in the morning? What web-based retro game is the perfect choice for a night of gaming with friends?
Bubble Shooter is a classic, but Bubble Shooter 2 and Power Pop Bubbles offer a modern twist on a classic favorite. Which will you choose to play online during your lunch break? The resurgence of retro games marks a return to gaming history and a celebration of nostalgia. Be sure you know the ins and outs of these free Bubble Shooter games from Ilyon.
You asked for it, and here it is. The ultimate Bubble Shooter breakdown.
Arcade-Style Retro Bubble Shooter
Vibrant colors and familiar graphics are a major draw of this web-based version of the old school Bubble Shooter game we all know and love. Expect familiar gameplay with a bit of a twist. Easy downloads mean that you can play any time without ads or interruptions. Throwback to your childhood with this fast-paced puzzle game.
The Premise

The premise of this free Bubble Shooter game is simple: pop bubbles, win big. All you have to do is aim, fire, and watch as the bubbles burst and you are declared the champion.  It's all about matching colors and clearing the board to move up levels. You win the level when the board is completely cleared of colorful bubbles. At this point, you move on to levels that get harder and harder every time.

With our new take on the classic gameplay, Ilyon allows for league changes when you level up. The more you level up, the more leagues you pass through. You can customize now more than ever with missions that differ in difficulty.

Pass time with an easy level, or challenge yourself with a strategy-based skill mission. You play on your own terms with free Bubble Shooter games from Ilyon.

Getting to the Game

Our Ilyon revamp of the classic game includes web-based gameplay. You can play online to compare scores with competitors or just challenge yourself. Try classic arcade mode or opt for a strategy-based mission to test your skills. There are hundreds of ways to customize your Bubble Shooter experience with this classic game from Ilyon.

Free Bubble Shooter games are more accessible than ever. Our Ilyon website offers free online play. Play on your personal computer anywhere, anytime.

All the Classic Features You Love, in Present Day Packaging

You don't have to say goodbye to your favorite retro games. Bubble Shooter uses the familiar theme music you know and love, with all the same graphics and sound effects. It's like taking a time machine back to the '90s with this addicting PC game. Tune out the world with this immersive, relaxing web-based game.
Bubble Shooter 2 and Power Pop Bubbles
Retro gaming has never been this addictive. This game is cutting edge with colorful, eye-catching graphics and a revitalized design scheme. It takes us further from what we remember Bubble Shooter games being like as a kid. It offers a new take on the classic gameplay.
The Premise

This free Bubble Shooter game is all about style. The popping bubbles are more colorful and three-dimensional than ever. You can practically see the graphics popping out of the screen as you aim and shoot to win. Like the other Bubble Shooter games offered by Ilyon, the mechanism for gameplay on Power Pop Bubbles is easy to learn. You've got to be a pro, though, to fully master the game.

Aim and blast with all-new effects. The goal is the same:

Match bubbles to pop them. Eliminate all the bubbles and you win. Bubble Shooter 2 introduces a slew of new elements though that complicate and elevate gameplay.

Exciting Features, Classic Game

With this new design and layout of the classic game, players are privy to a ton of fun features. Try the Super Aim capability for intense and focused shots. Extra sounds, music, effects, and even bubbles give the game an exciting modern twist, without losing all the fun of the classic free Bubble Shooter game.

Bringing the 90's Back

Ilyon was founded on the desire to bring gaming back from the past. What does it look like when PC games from the 1990s have the benefit of modern gaming tech? This is what gamers see in Bubble Shooter and Bubble Shooter 2: Power Pop Bubbles. It doesn't stop there, we have dozens of other gaming information available on our website.
Gameplay that Grows With You
The new features of Power Pop allow seasoned Bubble Shooter pros to test out their skills on an all-new playing field. With both games, you can try new challenging levels and rack up the points. Bring the old school arcade right into your living room with this retro PC gaming trend.
At Ilyon, we want gamers to get the best parts of gaming history brought up to modern times. With these free Bubble Shooter games, we preserve the aesthetic of the classic game, with new features that gamers are sure to love.
Playing Bubble Shooter's web-based throwback is like stepping into a time machine from days gone by. The Bubble Shooter original game was played on PC, and the controls feel familiar and nostalgic. Mobile and online gaming are vastly different experiences, but they both allow for gaming on the go.
Play our fast-paced and addicting Bubble Shooter game online. Test it out for yourself to see whether you prefer mobile or online gaming for this retro Bubble Shooter game. Do you like the convenience of a mobile device or the nostalgia of PC gaming? Use this guide to help you make a decision.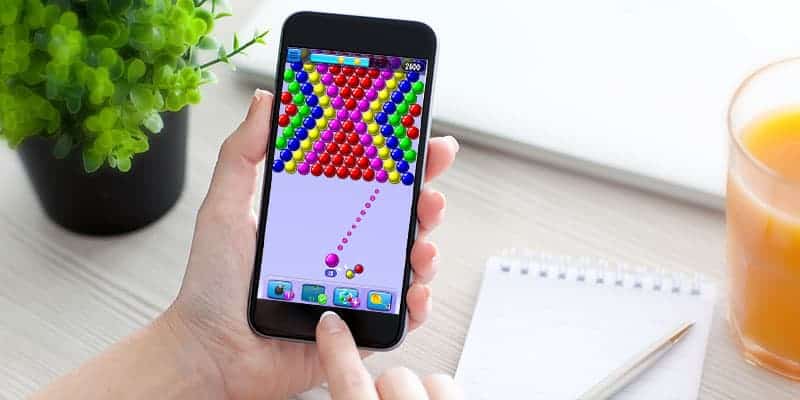 Nostalgia and Features with Convenience
Gamers can't get enough of the relaxed feel to PC gaming, which is why our web-based Bubble Shooter is the most popular. Mobile gaming allows the freedom to move around, but so does PC gaming. You can whip out a laptop on the train, in a plane, or even on lunch break at work. Bring it to the DMV to pop bubbles and rack up wins while you wait in line.
Try this Bubble Shooter game online to compare scores with competitors or offline as a PC gaming experience. At Ilyon, we are offering this classic arcade game online for the ultimate throwback. It's like taking a time machine to enjoy this blast from the past.
You don't need to drop by an arcade to play old school games anymore. Bubble Shooter original is more accessible than ever. Get the classic game on your PC or mobile device today and play this fast-paced, addicting game over and over.
Gameplay and Controls
The biggest difference between mobile and web-based gameplay is the controls. On a touch-screen smartphone, mobile gaming means tapping, touching, and releasing. With the web-based Bubble Shooter game online, it all comes from the mouse and keyboard. This means that you may have a preference for one over the other based on what feels more comfortable.
The game was created for PC, so the most nostalgic choice may be to go with the web version. The mobile game though offers new benefits with touch-screen technology. Decide for yourself by visiting the Ilyon website.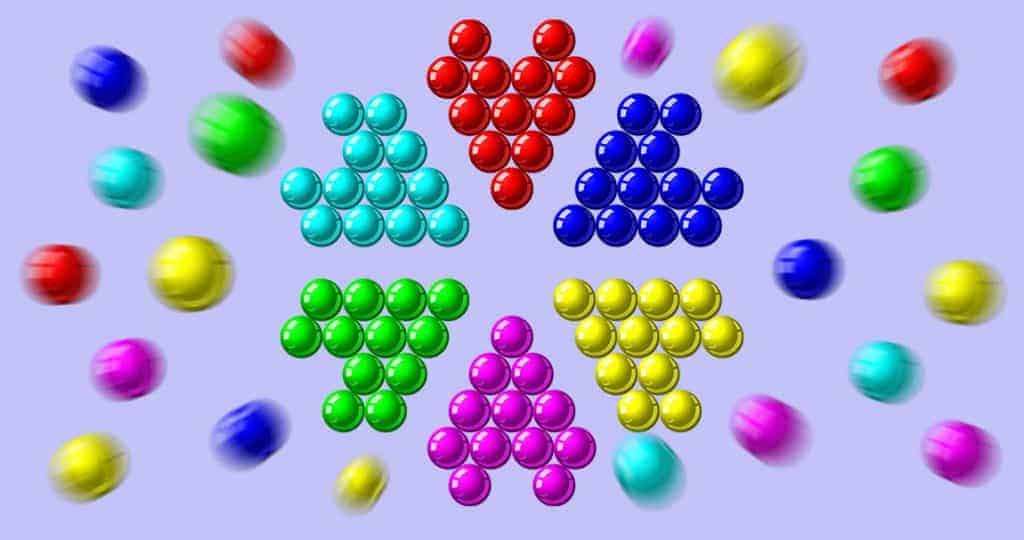 Does Bubble Shooter Online Stack Up to its Mobile Counterparts?
Comparing mobile and PC gaming involves looking at the differences in controls, graphics, and overall gameplay. Ultimately, the choice is yours. Playing the Bubble Shooter game online in the web version gives massive waves of nostalgia. How else would you want to experience this quintessential PC game? The graphics and familiar theme music bring you right back to your childhood instantly.
Mobile gaming offers much of the same sentimentality and familiarity but is more portable. It is less like the experience you'd have while playing the original game, but it pays homage to gaming history nonetheless. 
Player, choose your bubble.
Bubble shooters were among one of the earliest arcade video games to hit the scene. Released in the 1970s, they were a popular hit and considered revolutionary for the time. Originality is one of the most important things for games that came out of that era like Bubble Shooter.
Decades later, these classic games are making a comeback online as browser arcade games. Casual gaming companies now have the rights they need to be able to offer these exciting games online. Players that once used to go to the arcades can now enjoy the same games in their own homes. All of this comes without ever having to spend your hard-earned quarters on arcade coins!
Why Are Classic Arcade Games Online?
Many of these classic games are bringing back the exciting feeling that players had when they played on a console or at the arcade. Even players who had not been alive for the earliest arcade games can still get a sense of nostalgia because of the retro style, design, and sound clips that these games have. Ilyon Dynamics is bringing these browser arcade games online allowing anyone with a computer to access them.
People of all ages can now play these games which are fast-paced and addictive. They come in a traditional classic mode which is great for the players who used to play them. Many games now have additional features that bring new levels of creativity to the games. 
Do you think you have what it takes to beat your old high score? We've taken a look at the top arcade games from the past half-century. Playing classic arcade games online is similar to playing them in the arcade but also comes with unique challenges! Getting accustomed to the new way of playing these games doesn't have to be hard. Most of the time, the games are simple just like their long-forgotten arcade counterparts.
The old bubble shooting games ended when the bubbles hit the bottom of the screen, and the player wins when there are no balls remaining in the playing field. Since then, the game has evolved and the original turned into a fun new arcade game called Bubble Shooter. Ilyon has since taken that classic game and made it one of the best browser arcade games.
Why Classic Games Are Making a Comeback
Part of the draw of classic arcade games online is their simple interface. They have a simple goal that makes them easy to understand while still being challenging. When you play games like Bubble Shooter, you can let your mind relax while focusing on one simple goal. Even though there are many other types of games that are popular, they are often more complicated and have many choices. 
Understanding the goal, like removing all the bubbles off the screen, is easy and makes the game so much more fun to play. Since the simple rules are laid out in advance, players with any level of video game experience can quickly pick up on the game's rules! 
Ilyon's Classic Arcade Games
Each of the arcade games from the 70s, 80s, and 90s brought originality. That's what makes them so addictive and fun to play. Moving from the gaming cabinets to web browsers hasn't slowed things down. The same fun from the old days is nowhere near the convenience of playing in your own home.
Over the years, we have developed casual browser arcade games in addition to our popular mobile games. Our most popular game, Bubble Shooter, is available as a web version without having to download. If you're interested in trying the game or are unsure if you would like it, check out some of the reviews that players have left.
You'll find our most popular Ilyon arcade games that are perfect for your browser. These games are easy to learn and great for players of all skill sets. They're also great if you have downtime during your day and need a little challenge that can put your brain to the test. You'll also find mobile versions for many of our most popular games. The best part is that these games are free and you don't even need a credit card or quarters to play!
Space out or tune in with our fun, web-based bubble shooter game from Ilyon! Spice up even the most boring occasion with this nostalgic, fast-paced shooter game. The controls are easy to learn and challenging to master. They take you back in time but still provide a modern challenge to beat. Kill time, relax and unwind, or get competitive with the best bubble shooter game from Ilyon.
Just like the original game, this gameplay involves shooting a bubble at like-color bubbles to make them disappear. When all the bubbles are gone, you've won that level! The web-based game has won popularity among users of all ages for its ability to help you relax, unwind, pass time, and have fun anywhere.
Challenge a Buddy to Some Friendly Competition
Play Through the Waiting Room Blues

This thrilling

bubble shooter game for PC

can be a collaborative effort or a competitive challenge. Waiting for a meeting to start? Challenge your coworker to a friendly bout of this classic game and keep track of who's winning offline. Bring the

best bubble shooter game

on the next road trip and compare scores all week long. Go pro with expert levels or scale it back with a round of the first level. You can truly customize the bubble shooter experience with our casual game.




Hours in a waiting room can feel endless. The doctor's office, DMV, and even the hair salon leave you bored and itching for some way to fill the time. Lock in a new mission to attempt a

strategy-based challenge

on the

best bubble shooter game

. Join a new league with each passing level. There are tons of ways to stay engaged with this web-based casual game. Our fast-paced

free bubble games

make it easy to pass the time.

 

Sometimes waiting involves being on hold for hours, unable to use your phone for anything other than staying on the call. That's why this addictive web version is so popular. Jump on the site so you can play all day, anywhere.

 

Breeze Through Long Car Rides

 

Enter Nostalgia Overload

 

This original game from Ilyon brings a flash of nostalgia to web-based gaming. For years, the

best bubble shooter game

s have entertained people on long road trips and even passengers during commutes. It has moved from portable console gaming to handheld gaming devices, to your personal computer.

Pop your laptop out on a long flight and stay entertained for hours. With endless compelling levels, it's impossible to stay away from this classic gameplay.

Long commutes by train or bus are a great way to advance the bubble shooter levels quickly. Kill time on the way to work with this relaxing casual game. One minute you're waiting at the bus stop, and ten levels later you're pulling in to the office. The commute, waiting for a meeting to start, and even lunch breaks are all perfect times to slide into the easy-to-use web version of the best bubble shooter game.

With each passing decade, there is a new resurgence of interest in retro gaming. At Ilyon, our addictive

free bubble games

make it easy to feel like you're stepping right back in time. Vibrant colors and engaging graphics bring the best of the twenty-first century, but the mechanism stays the same. Shoot. Pop bubbles. Become a champion.

 

Compare your scores with friends or level up on your own. The awesome graphics and effects feel like a futuristic take on a classic game. Simple gameplay means if you've played once, you'll know how to play again. Lively animation and design make it easy to get sucked in and play for hours.

 

Relax and Unwind

 

Rise and Shine

 

Give your mind a little breathing room. Our

best bubble shooter game

s are perfect for winding down when you first get home from a long day at work. Go with easy beginning levels for a stress-free way to occupy your mind. Let your thoughts wander as you complete challenges and level up.

Many enjoy using this bubble game as a way to regulate and calm themselves before a stressful interview or intense meeting. The simple gameplay makes it easy to focus without getting too invested. It is the perfect stress-free time filler. The game brings a little fun and excitement to each moment without being too stimulating or boring. 

You know that moment in the morning when your alarm goes off but you can't quite get out of bed? 

 

You don't want to check social media or hop on your email quite yet, but you need something to get you engaged and thinking. The best bubble shooter game from Ilyon can engage and wake you easily.

 

Fast levels make it easy to find an easy break when it's time to start your day. Stop for a bit and pick up again once you're on the train or bus headed to work. Wake up warmly to this blast from the past and carry the vibrant fun with you all day long.

 
The best bubble shooter game can even help you calm down after stressful interactions or difficult events. That's right, this free bubble game can ease your mind. Feeling worked up and tense? Focusing on the simple task of popping colorful bubbles can improve your mood and help you stay present and mindful.
Play bubble shooter to entertain yourself, survive the waiting room wait time, pass time on a long commute, get a blast of nostalgia, give your mind a break, and even wake up in the morning. Plan your advanced strategy to improve your critical thinking and focus, or opt for an unplanned and easy game to let your mind wander.
On any occasion, this web version of the best bubble shooter game lets Ilyon share the nostalgia and share the love. No matter where you are, this free bubble game is a great way to inject fun into your daily activities. The game can be social or individual, easy or difficult, and can be played on the web from any device. 
Our childhood games defined a generation. The games you played with friends hold good memories. We all remember the tech that came out when we were a kid as being a symbol of the future. Retro games online continue to find popularity as generations age and the look and design of games like retro bubble shooter become more of a novelty.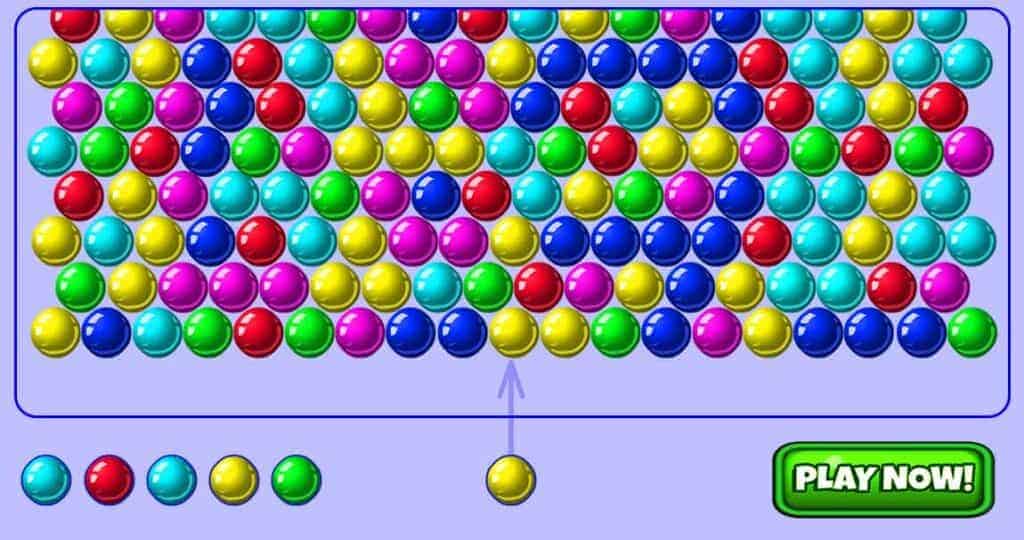 Bubble Shooter has a vibrant design and cute sound effects make it easy to reminisce about the classic game. Ilyon's retro Bubble Shooter lets users turn back time and feel like a kid again with the same classic gameplay they remember from childhood.
This nostalgia trip is one you won't want to miss, with tons of new options that bring browser-based gaming into the future.
Classic Game, Twenty-First Century Packaging
Classic Gameplay with Expanded Features

Bubble Shooter is a

nostalgic game

that everybody recognizes. We all have memories of playing the game on different devices with different people over the years. 

The mission is the same: shoot bubbles at other bubbles of the same color to make them disappear. Once all the bubbles are gone and the screen is clear, you are the winner. Advance levels to get more difficult challenges and emerge victoriously.

The only difference is that now you can play from a personal computer or other web-based devices. Retro Bubble Shooter is more accessible than ever. Users can play how they like, when they like, with no restrictions. Download the game so that you can play any time you want. You don't need to go to an arcade and spend money to get your daily dose of nostalgia. Play Bubble Shooter on the web from a device in your own home for free.


There is more than one way to play this

retro Bubble Shooter

game. Though it keeps the classic gameplay you're used to, there are now many ways to become a champion.


Opt for online gameplay so that you can connect with friends and share your score, or offline so that you can play on an airplane or off wifi. Plug headphones in to hear the familiar theme you're used to and feel like you're being taken back in time.


You can play the web version of this retro Bubble Shooter on the Ilyon website. This means you can play wherever, whenever, with no interruptions. It allows for a break from the noise with a retro feel. 


Take yourself back to the old arcade or your favorite gaming system all from within the comfort of your own computer!
Elevated Levels and New Ways to Play
Gamers love Bubble Shooter because it is one of many nostalgic games they remember from childhood. The web-based version at Ilyon is more addictive than ever. Each time you conquer new territory and finish a level, you move closer to advancing your league. Impress your friends with a high league on retro Bubble Shooter. Plan your strategy ahead of time and pop as many bubbles as possible.
Get caught up in all the excitement of seeing your name at the top of the leaderboard in an arcade. This time though, don't worry about the noise and other distractions you might have experienced in that arcade setting. Step into the web version's classic arcade mode and enjoy the gameplay you're used to or try something new on mobile for a real challenge.
Space Out or Tune In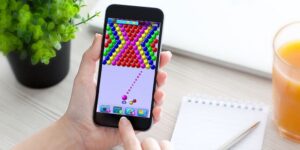 Gamers love that they can speed through an easy mobile level while they wait for their train to arrive or their meeting to start. They can then switch to a harder level when they have a bit of time on their hands. This is a game that can be played off and on with little adjustment time.
Some nostalgic games require all of your mental focus, and can't be played without intense determination. Retro Bubble Shooter allows for a more relaxed, nostalgic play. Ease through levels in little bits of downtime throughout the day and track your own progress.
Use it as a distraction to help kill time, or use it to inject some fun into an otherwise boring sick day. Get competitive while waiting in line at the DMV or on a long road trip. This is the perfect game to play on the go, on your own terms. Play to wind down before bed, or to wake up in the morning. Switch between easy and difficult depending on how much focus you want to give the game. A nice easy round can feel nostalgic and safe while letting your mind wander about the day you've had or upcoming projects.
An Education on Gaming History
Simply playing the retro Bubble Shooter game makes it easy to see where it all started. Classic games like this are perfect for avid gamers who want to experience more of the history of the genre. With so many advances in technology, it's no wonder that so many gamers are returning to their roots to play classic arcade-style shooter games like this.
At Ilyon, we seek to preserve the old school nature of the game. We revamped the system to create a PC gaming experience. At the same time, though, we kept the original theme and design so that gamers can feel like they're witnessing a part of gaming history. For serious gamers, retro Bubble Shooter nostalgic games are like a museum of gaming past.
Try out the addicting classic game available online on the Ilyon website. Kill time, try for a new high score, or revisit the past of gaming.
With so many games out there, finding one that suits your skill can be tough. Luckily, many of the best games are perfect for beginners and run on your equipment. If you're a beginner to casual games or are looking for a game that's more suited to your skill level, an easy bubble shooter game is a great option to start out with! Bubble Shooter is a free game you can play on your phone or on the web. It's a great primer game and it takes a matter of minutes to learn how its played.
What are the Rules to Bubble Shooter?
As one of the best PC games for beginners, Bubble shooter is a very simple game and easy to play: 
Shoot bubbles from the cannon and match them up to form groups of three or more bubbles that are the same color. 
When you have more than three in each group, the bubbles will blast away and clear space on the board. 

More bubbles removed in each shot equals a higher score on the board! 

Don't forget to check which bubble color is coming up next so you can have a strategy to beat the game.

Make as many matches as possible to clear the board and move onto the next level. 
When you play this easy bubble shooter game, you get plenty of time to complete the challenge. If you're still unsure whether you think you have the skills to play Bubble Shooter, give it a try!
Is Bubble Shooter an Easy Game?
Bubble Shooter is the best pc games for beginners and experts. The Bubble Shooter games are very fun for everyone. This is the type of game you can play for hours. The fun online version even allows you to compete against others. 
Bubble Shooter has several different levels of difficulty. If you're new to the game, start with the easy bubble shooter game level! For additional advice, visit our YouTube channel that features more information about our games and how they're developed.
Tips to Scoring on Bubble Shooter
There's more than one way to score a lot of points. With a few tips, getting combinations and racking in the points will shoot you up the ladder while you get past hard levels. With a little practice and focus on the basics, you can start from the easiest levels of the Bubble Shooter game and make it to the harder episodes.
Be Quick and Decisive -

Clear all the bubbles on this

easy bubble shooter game

so that you can move on to the next level quickly. Over time, you will naturally become quicker so no need to push yourself with this tip alone. A great way to increase your speed is by practicing on the big screen. This is one of the best PC games for beginners since you can use a mouse, which is more accurate. When you

play on a PC

, you get the experience of doing it without any downloads.
Be Smart When Shooting the Bubble

-

Make sure you plan your aim well so that it lands exactly where you want it to. If you accidentally block bubbles early in the game, you may make it more difficult to clear the playing field. When you're playing on the web version, aim your cursor exactly where you want the bubble to go. This will make your shot more accurate and less likely to hit an unintended bubble. 
Make A Clear Path -

This is probably one of the most important tips for beating this

easy bubble shooter game

. If there are smaller groups of bubbles, don't worry about them since you can get them later. Go for the grouped set of bubbles first so that you can drop the smaller groups of bubbles. In some of the higher levels, try to make a straight path to the big group of bubbles that may be hidden by smaller groups.
Plan Your Bubble Colors Well -

You can see what color bubble will be next to shoot which is part of why this is among the

best PC games for beginners

. Use this foresight to your advantage and plan ahead so that you can save time. If you have two colored bubbles in a row, you can target a single bubble by itself to clear the path. Making these combos will allow you to clear up "difficulty bubbles."
Don't limit yourself to these easy bubble shooter game tips. To improve your skills and move through the levels of Bubble Shooter, find what works best for you. The more you advance, the more you will have to test out new techniques so that you can hone your own playing style. 
More Exciting Games
If you're looking for more than just an easy bubble shooter game, be sure to check out other awesome games like Power Pop Bubbles. For more information and our portfolio of games, explore which games are best suited for your skillset. 
Ilyon Dynamics brings some of the most fun and intuitive games to your fingertips. Whether you're looking for easy bubble shooter games or more strategic games, we have what you're looking for. We've even posted a web version of Bubble Shooter so that you can try out the game without having to download anything. 
Before you learn how to beat Bubble Shooter, you must first have a basic understanding of the game. Bubble Shooter is an arcade game you can play online or offline where you shoot colored bubbles at a playfield full of other bubbles. The goal is to eliminate all the bubbles on the playing field by shooting combinations of bubbles that have the same color. Accuracy is very important, because you may end up adding bubbles to the playing field rather than removing them, increasing your chances of filling up the playing field and losing the game. 
While Bubble Shooter is a great game for a beginner, the more you progress in the game, the harder it gets. If you're trying to figure out how to beat Bubble Shooter, chances are you've already experienced some tough levels. With so many obstacles, it can be tough to make it to the more advanced stages of the game. So, how can you master all the tricky challenges of Bubble Shooter? We recommend practicing Bubble Shooter on the free web version so you can play on a bigger screen without downloading the game.
Strategy and Tactics to Master Bubble Shooter 
Getting to the later levels of Bubble Shooter can be tough, especially if you haven't nailed down some key strategies and tactics. Progressing in the game requires you to think both strategically and tactically. Critical thinking will help you understand how to beat Bubble Shooter.
When your board first appears, it's important to survey the groups of colored bubbles that are spread out across the playing field - 'The Strategy.' There are likely some colored bubbles that are arranged close to each other and may lead to a large 'combo shot' or others that may allow you to drop other bubbles. Keep these in the back of your head so that when the right opportunity arises you can take action to shoot bubbles at these areas. 
Tactics will dictate your execution. How well are you able to shoot the right colored bubbles under pressure and without making mistakes? As you become a more experienced player, you will make fewer mistakes and shooting the bubbles will become intuitive.
3 Tips on How to Beat Bubble Shooter
Beating Bubble Shooter is a feat anyone can take on. The further you go in the game, the harder it can get, so making simple mistakes can wreck your whole game. Once you've nailed down the basics of how to play Bubble Shooter, you'll probably be asking yourself: how can I take my skills to the next level? Use three tips to help you understand how to beat Bubble Shooter. 
1. Target the Hanging Bubbles - If you see a few bubbles dangling off a group of other bubbles that are the same color, you're in luck. Rather than trying to shoot off one bubble at a time, wait until you have the right color bubble and target that bubble to drop all the bubbles at once. You'll free up space instantly and clear up space to shoot further up the playing field. Also, make sure to always keep an eye out for what bubble is coming up next. If you know that you'll be shooting two bubbles with the same color, you can go for a solo bubble in the playing field. This targets a solo bubble that is connecting a bunch of hanging bubbles. 
2. Rely on Your Bank Shot - One of the most important tips you must know if you want to know how to beat Bubble Shooter is the 'bank shot.' A bank shot is when you angle the shooter at one of the playing field walls so that the bubble bounces off the side walls. It can be quite useful when you're trying to reach harder to reach bubbles where there are a number of same-colored bubbles. They can also help you squeeze bubbles in to fill up blank spaces. The bank shot can be a life-saver if you can't find any possible matches on the first row of the playing field. In fact, these types of shots are almost necessary if you are looking to make it to the bubble shooter's last level.  
3. Plan Ahead - One of the most important aspects as you evolve your game style is to plan ahead. This is in line with the strategy element of the game. When you first see the playing field at the beginning of the game, you have time to assess your strategy for clearing the board and organizing some steps for how to beat Bubble Shooter. As you progress, you can develop mini strategies to accomplish your main goal. 
More Games From Ilyon
Did you already figure out how to beat Bubble Shooter? Find a portfolio of various casual games including Bubble Shooter, Cookie Rush, Power Pop Bubbles, and other card games from Ilyon. Our games are fun, simple and offer engaging gameplay so you can challenge yourself as you progress. If you've beat Bubble Shooter's last level, you can challenge yourself in our other games
Do you ever find yourself waiting around for time to pass? You could be standing in line at the DMV, on hold during a customer service call, waiting at the doctor's office, or daydreaming while your subway arrives. In times when we're waiting, we could be challenging ourselves to a fun casual game on our phone or tablet. 
As we go about our lives, there ends up being quite a lot of downtime. This time could be spent playing a relaxing but high-paced game. Bubble shooter is one of the best games to play when bored. Bubble shooter is a classic browser-based game that has been and will continue being a fan favorite!
Boredom can make you feel unproductive and like there's nothing good going on in your life. Play the super addicting Bubble Shooter game during these five most boring life moments.
TV Commercials
Waiting for a 30-second ad to go by to watch a video, or several minutes while watching TV is a huge waste of time. This is a time you could be enjoying one of the best games to play when bored. Playing a round of Bubble Shooter is so quick you'll be done by the time the commercials are over! 
Being on Hold 
Getting stuck on hold is one of the most boring moments you have to experience in modern times. You could be calling your cable company or trying to set up an appointment with your dentist. It could be minutes or hours until you speak to someone and it's hard to get more bored than this. If you're this bored, figure out which mobile game is best to play. Our Bubble Shooter game download is easy to get started. You might even be able to level up a couple of times while you're still on hold. 
Standing in Line
You could be at the post office, grocery store, or DMV and be waiting for your turn. Depending on how busy it is, you could be there for a while. That's plenty of time to test out your Bubble Shooter skills. Bubble Shooter is one of our best games to play when you're bored.
Downtime at Work
Work is one of the most common places for boredom to strike. You could be waiting for a customer to walk into your store or for your boss to give you some more direction. One of the best games to play when you're bored is Bubble Shooter. It's one of our most popular games in addition to Cookie Rush and Power Pop Bubbles. Bubble Shooter is a classic game that you can play online or offline if you don't have access to the internet. You can get the Bubble Shooter game download for free or play it for free on our website.
During Social Media Cleanses 
Have you gone through all your social media feeds? It might be a good time to take a break. It's great to give your head a little break from time to time so that we can fully focus when we need to. Some of the best games to play when bored are ones with a simple interface and easy to understand. Our designers have put their all into games that give your brain a break. If you're interested in games like Bubble Shooter, you may be interested to learn more about how we design our mobile games.
With all these boring times during the day, playing a casual game is a great way to pass time when things are slow. With the holidays coming up, you may be spending plenty of time traveling. When you're waiting for your airplane to board or riding in the car to visit family, you can be pushing your casual gaming skills!
Finding the Best Games to Play When Bored
The next time you're waiting in line or for that commercial on TV to pass, why not try your luck on a casual game? Some games that can truly test you are easy to learn but hard to master. Finding those little tricks to get to the next level is what makes it so challenging. If you're a novice to casual gaming, don't worry - each of our games has a gradual learning curve. Whether you have a little time or a lot of time, use our best games to play when bored!
Challenge Yourself with Bubble Shooter
If you're not familiar with Bubble Shooter, the goal of the game is to clear the board by grouping three or more bubbles that are the same color. The more balls you can pop in one shot, the more points you'll score. To win, the player needs to clear the remaining bubbles so that there are none left on the playing field.
The fast-paced nature of the game is what makes Bubble Shooter one of the best games to play when bored. You can test out the game live right now by visiting our website.
Check Ilyon's Free Games Today
Test out your skills in some of the other fun games we have. Our Power Pop Bubbles game can also be downloaded and is equally challenging. Check out our best games to play when bored and play for free with our ad-free web version today.
Play Bubble Shooter Online
You don't need a phone or fancy computer to play our bubble shooter game online, just your personal laptop or desktop and access to the internet. Learn more about why our game is the best puzzle game for PC! 
1. No Downloads Needed
We know the hazards of downloading unknown or unverified programs onto your computer. With our bubble shooter game, that's not necessary. You can play Bubble Shooter online without downloading anything! Visit our gaming world and discover how easy it is to play Bubble Shooter in your browser without any updates or extra software!
2. It's Free
At Ilyon®️, our mission is to introduce you to great games, period. We offer exciting classic games for our players both in your browser and on mobile. Click in and play — no limits and no requirements! Play Bubble Shooter for free at any time!
3. Waste Some Time, Clear Your Mind
Psychology Today recently released an article discussing the benefits of video games for your mind. Researchers, Adam Eichenbaum, Daphne Bavelier, and C. Shawn Green, reviewed a number of the most recent studies relating to the cognitive effects of video games on children and adults and found that video games have substantial positive impacts on your mental processes. Everything from attention and memory to perception and decision making is influenced for the better when you play video games in small doses.
When you play Bubble Shooter online, it can reduce anxiety, help you break bad habits, and clear your mind. Our games allow you a place where you can escape from your troubles, even if it's only for a few minutes.
4. Easy to Play
Whether it's your first introduction to bubble-popping puzzles or you're an old pro, playing our bubble shooter game online is easy and fun. You don't need a tutorial before diving in to play and all the mechanics are pretty self-explanatory. Our web browser version of the game keeps score in the lower right-hand corner, while you can restart the game or control the sound effects with the bubbles on the right side of your screen. Try it out today to discover how simple it is to become an expert.
5. Compete with Friends
We help you keep score when you play the bubble shooter game for free. Compete with other friends who play on their PC too by screen-shooting your top score and sending it to them. You can play with people all across the world or invite friends to your home and take turns.
Gaming with Ilyon®️
At Ilyon®️, we have an amazing team that loves designing games that keep you entertained. We're passionate about game design and we encourage everyone to take a few minutes out of their day to play video games to destress, relax, and unwind.
Learn more about our team today!
Get ready for hours of blasting fun with the original Bubble Shooter game developed by Ilyon Dynamics! We've taken the old retro version and revamped it with puzzles and challenges, amazing graphics, and new levels. Need a game for a flight or long car ride where service is spotty? The mobile version of the original Bubble Shooter game will work without WiFi or cell phone service, so you can play it anytime and anywhere. Everyone loves the color-matching, popping gameplay. It's easy to get started! Just follow this Bubble Shooter guide.
Where to Find the Original Bubble Shooter Game
The Original Bubble Shooter game is available free on mobile and the web! While the mobile game is available from all the most popular app stores, it is easy to just play it on the web. You don't have to worry about downloading anything when you play it right on your web browser. 
Basic Rules of the Original Bubble Shooter  
On touch screen devices, hold your finger down on the screen and drag it around to aim. If you're playing the web-based version, use the mouse to aim your bubble and move its trajectory around. When you lift up your finger or your mouse, the bubble at the bottom will blast away. You can even do bounce shots off the side of the game window. Your goal is to match the color of your bubble with two or more of the target bubbles. So, if you shoot ammo bubble and it hits only one like-colored bubble, it will stick in place. When you stick three or more of the same color together, the bubbles will fall away. Your goal is to pop all the bubbles in the least amount of moves. 
In order to help you strategize your moves, the original bubble shooter will show you the color of the next bubble you will use as ammo. It will appear to the right side of your ammo bubble and will be smaller with arrows rotating around it. Popping 10 or more bubbles at once will charge a booster bomb that you can use to blast away nearby bubbles. Bubbles that are bi-colored can be popped by either matching the ammo bubble to either color.
As the game progresses in levels, it will become trickier to match 3 colors together. Like the game of pool, you must use bounce and trick shots to get those bubbles popped. The fewer moves you use to pop the bubbles, the higher your score will be. 
Bonuses
Every day, you can collect a daily reward in this original bubble shooter mobile game which usually offers up coins you can use to buy gameplay items, like nuclear bombs, line bombs, and fireballs. As you play and complete levels, you will unlock new missions, rewards, and an option to create or join teams in the mobile version. Joining a team will earn you free gifts and rewards as well. The game app also gives you stats on top players and teams globally and locally.
Classic Mode
The classic mode is a simplified version of the original Bubble Shooter game. You still need to match three of the same colored bubbles to pop them. Use strategy to move through the levels and solve puzzles.
Arcade Mode
Arcade mode is a retro version with fewer power-ups and boosts. Work your way through levels as they get more challenging. Sometimes you have to enjoy the simple things in life like retro games that bring us a sense of nostalgia. 
Bubble Shooter Gameplay Guide
The Original Bubble Shooter game has very easy to follow rules, making it great for everyone in the family to enjoy. The game will start you out on level one. On mobile devices and tablets, it will give you on-screen instructions to get you familiar as you play. You can also switch between 'Classic' and 'Arcade' modes in the settings menu when you're playing on mobile.
Bubble Shooter 2 and 3
Ilyon Dynamics Ltd. also created Bubble Shooter 2 and Bubble Shooter 3 for hours of extra fun. Discover new levels, puzzles, and challenges to test your skills. Unlock extra boosts and power-ups to blast more bubbles at once! Be warned, you just might become addicted to the Original Bubble Shooter and its sister games.
We hope you found this Bubble Shooter guide useful. Our games are regularly updated to give you the best possible playing experience. Visit us to learn more.