Our childhood games defined a generation. The games you played with friends hold good memories. We all remember the tech that came out when we were a kid as being a symbol of the future. Retro games online continue to find popularity as generations age and the look and design of games like retro bubble shooter become more of a novelty.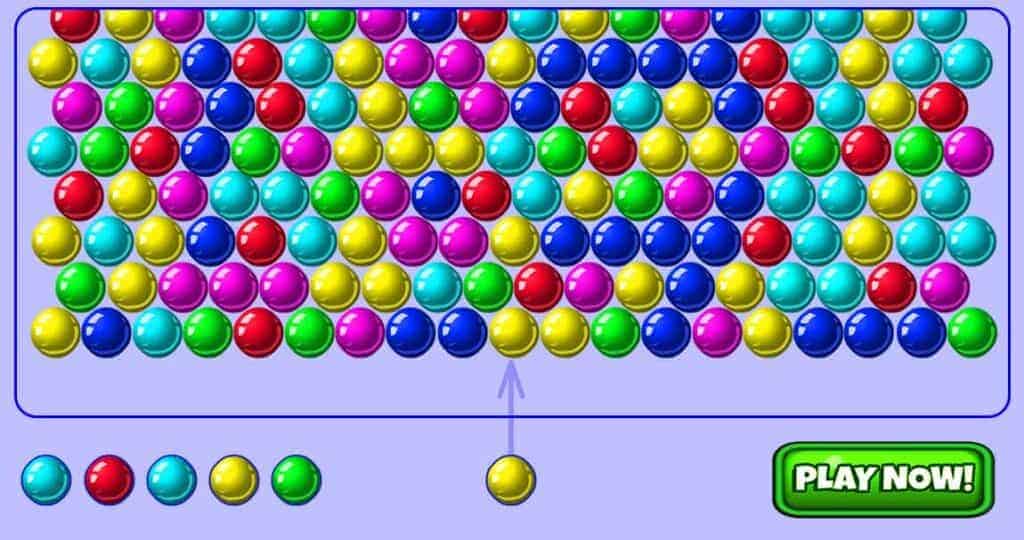 Bubble Shooter has a vibrant design and cute sound effects make it easy to reminisce about the classic game. Ilyon's retro Bubble Shooter lets users turn back time and feel like a kid again with the same classic gameplay they remember from childhood.
This nostalgia trip is one you won't want to miss, with tons of new options that bring browser-based gaming into the future.
Classic Game, Twenty-First Century Packaging
Classic Gameplay with Expanded Features

Bubble Shooter is a

nostalgic game

that everybody recognizes. We all have memories of playing the game on different devices with different people over the years. 

The mission is the same: shoot bubbles at other bubbles of the same color to make them disappear. Once all the bubbles are gone and the screen is clear, you are the winner. Advance levels to get more difficult challenges and emerge victoriously.

The only difference is that now you can play from a personal computer or other web-based devices. Retro Bubble Shooter is more accessible than ever. Users can play how they like, when they like, with no restrictions. Download the game so that you can play any time you want. You don't need to go to an arcade and spend money to get your daily dose of nostalgia. Play Bubble Shooter on the web from a device in your own home for free.


There is more than one way to play this

retro Bubble Shooter

game. Though it keeps the classic gameplay you're used to, there are now many ways to become a champion.


Opt for online gameplay so that you can connect with friends and share your score, or offline so that you can play on an airplane or off wifi. Plug headphones in to hear the familiar theme you're used to and feel like you're being taken back in time.


You can play the web version of this retro Bubble Shooter on the Ilyon website. This means you can play wherever, whenever, with no interruptions. It allows for a break from the noise with a retro feel. 


Take yourself back to the old arcade or your favorite gaming system all from within the comfort of your own computer!
Elevated Levels and New Ways to Play
Gamers love Bubble Shooter because it is one of many nostalgic games they remember from childhood. The web-based version at Ilyon is more addictive than ever. Each time you conquer new territory and finish a level, you move closer to advancing your league. Impress your friends with a high league on retro Bubble Shooter. Plan your strategy ahead of time and pop as many bubbles as possible.
Get caught up in all the excitement of seeing your name at the top of the leaderboard in an arcade. This time though, don't worry about the noise and other distractions you might have experienced in that arcade setting. Step into the web version's classic arcade mode and enjoy the gameplay you're used to or try something new on mobile for a real challenge.
Space Out or Tune In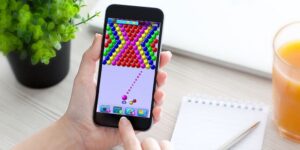 Gamers love that they can speed through an easy mobile level while they wait for their train to arrive or their meeting to start. They can then switch to a harder level when they have a bit of time on their hands. This is a game that can be played off and on with little adjustment time.
Some nostalgic games require all of your mental focus, and can't be played without intense determination. Retro Bubble Shooter allows for a more relaxed, nostalgic play. Ease through levels in little bits of downtime throughout the day and track your own progress.
Use it as a distraction to help kill time, or use it to inject some fun into an otherwise boring sick day. Get competitive while waiting in line at the DMV or on a long road trip. This is the perfect game to play on the go, on your own terms. Play to wind down before bed, or to wake up in the morning. Switch between easy and difficult depending on how much focus you want to give the game. A nice easy round can feel nostalgic and safe while letting your mind wander about the day you've had or upcoming projects.
An Education on Gaming History
Simply playing the retro Bubble Shooter game makes it easy to see where it all started. Classic games like this are perfect for avid gamers who want to experience more of the history of the genre. With so many advances in technology, it's no wonder that so many gamers are returning to their roots to play classic arcade-style shooter games like this.
At Ilyon, we seek to preserve the old school nature of the game. We revamped the system to create a PC gaming experience. At the same time, though, we kept the original theme and design so that gamers can feel like they're witnessing a part of gaming history. For serious gamers, retro Bubble Shooter nostalgic games are like a museum of gaming past.
Try out the addicting classic game available online on the Ilyon website. Kill time, try for a new high score, or revisit the past of gaming.